The Dr Koiki Mabo Project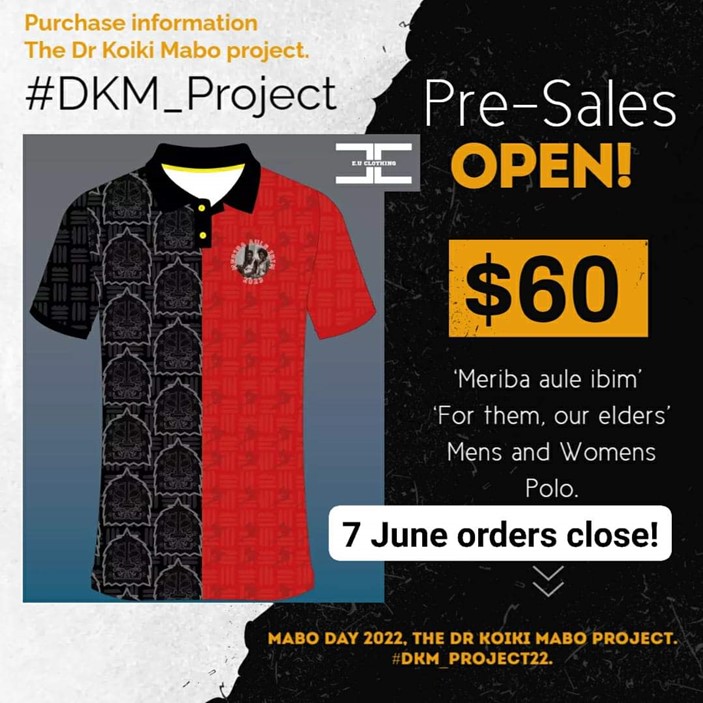 "The sale of this shirt will provide much needed funds to commence the traditional gardens project. Acknowledging both my grandparents, Dr Koiki & Bonita Mabo (AO), this polo shirt  incorporates the 2023 NAIDOC theme "Meriba aule ibim" For them, our elders".
– Kaleb Mabo
Mission Statement
For many remote communities throughout Australia the cost of fresh vegetables is extremely high. It is not unheard of that communities can pay upwards of $10 for a single capsicum! Many families are therefore forced to buy only what they can afford, that tend to be the very products that contribute to the poor health within communities.
With the approximate life expectancy gap between Indigenous and non-Indigenous Australians currently sitting at 17 years, research indicates the value of such missions are of extremely high importance.
Sadly, in remote areas the general life expectancy is even lower, with Indigenous males and females living in major cities expected to live around 6 years longer than those living in remote and very remote areas.
In fact, one of the leading causes of death in the Indigenous community is coronary heart disease (CHD). The cause of CHD includes insufficient physical activity, poor diet/ nutrition and obesity. Fortunately, CHD is preventable given many of its risk factors are modifiable.
Through establishing community gardens that supply urgently needed fresh vegetables to remote Indigenous communities, the purpose of this project is to develop a traditional gardening program that can be shared and delivered to wider remote Indigenous communities across Australia.
Starting on Mer, the traditional home of Dr Koiki Mabo, this project aims to empower communities to turn back to traditional methods of cultivating the land, giving community the chance to turn around the poor nutrition and diet.
Design Details
Meriam Mir
'Meriba aule ibim' translates to 'for them, our elders'.
The Woven Mat Design
In Island culture the significance of the mat begins at birth and finishes with death. When a woman is pregnant a new mat is made for birthing. Some mats will have writing or patterns woven in, to symbolize the arrival of the baby. As the recipient grows, they may hand down the mat to his/her children or grandchildren. The mat also plays a significant role in burial rituals, given is customary to place the mat below the deceased so they do not lay on the dirt.
Laup
The mask of Malo represents the strong traditional laws of Meriam. Prior to the arrival of the London missionary society, Meriam people were governed by the sacred practice known as 'Malo ira gelar' or Malo's lore.
Meriam stories speak of Malo arriving on Mer in the form of an octopus, uniting the island's clans and giving us laws and a religious belief to follow.
Iruapaup
The Black Hammerhead shark is a significant totem associated with the Piadrum le.
Apparel designed by Kaleb Mabo in association with graphic designer Daley McGinness.
Pre-Order Your Limited Edition Polo Shirt NOW!
To confirm your order, please email full details to E: drkoikimabo@gmail.com
Be sure to include the following information:
Full Name
Contact Number
Delivery Address
Quantity
Size – available in Men's M – 6XL | Women's 8-12
Make your direct deposit to the account below:
Account Name: DKM.PROJECT.MER.
BSB: 062-692         Account Number: 4624 6619
Please attach a copy of your bank receipt in your email
Production and delivery will take 3 weeks minimum 
Au Esaua
Kaleb Mabo