The National Native Title Council (NNTC), together with our partners at RMIT, AIATSIS and Melbourne Business School, conducts training for Traditional Owners, PBC members, Directors and their staff, to better understand their PBCs as a business.
NTOMT is a one-of-its-kind five day workshop teaching Traditional Owners business fundamentals and allowing PBCs from across the continent to network and share ideas.
Cost:
The National Native Title Council will cover the cost of the workshop.
But participants will need to fund their own travel and accommodation.
We will provide accommodation suggestions for each workshop.
Please note, during the training all participants will be supplied with morning tea, afternoon tea and lunch. There will also be two dinners provided on the Monday night and Thursday night.
Who can attend?
The training is open to all PBC members, directors, CEO's, Traditional Owners and board members interested in learning more about managing and growing your PBC.
We also welcome members, staff and directors of non-PBC Traditional Owner Corporations such as those recognised under the Traditional Owner Settlement Act. Along with Representative Body staff.
Content summary:
Leading experts from RMIT university, Melbourne Business School, AIATSIS and NNTC will deliver the workshops.
Using case studies the 5 day workshop will cover topics such as:
Communications & Marketing
Business Fundamentals (inc SWOT, Force Field Analysis)
Strategic Conversations and Stakeholder Relationships
Governance Structures
HR and Finance
PBC Regulations & CATSI Act requirements
Fiduciary obligations & Future Acts
The workshop also addresses how to pitch for grants, board personality and balance, leadership, negotiating and diplomacy within your PBC and interactive activities throughout the week.
Completion of the course can lead to formal TAFE accreditation and open pathways to further TAFE and Higher Education programs.
Below is a sample weekly schedule: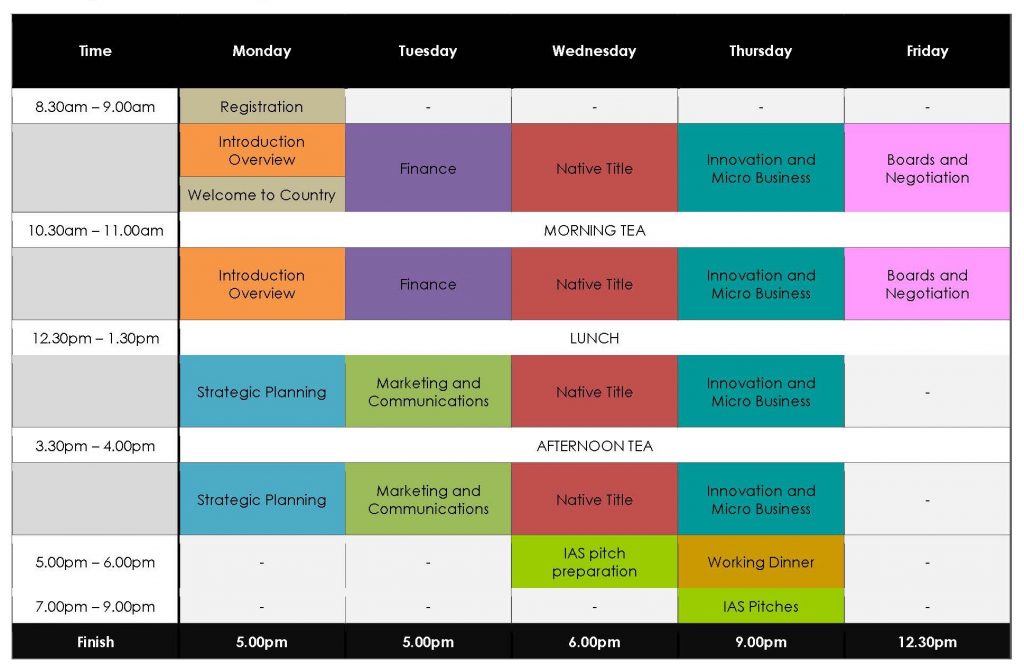 Things to know:
Meals: Participants will be provided morning tea, lunch and afternoon tea each day.
On Monday nights we will provide a Welcome Dinner, and on the Thursday night a Working Dinner.
All other meals will be at the participants discretion.
Example Timetable:
Monday: 8.30am – 5.00pm (Welcome dinner provided at 6pm)
Tuesday: 9.00am – 5.00pm
Wednesday: 9.00am – 6.00pm
Thursday: 9.00am – 9.00pm (Working dinner provided)
Friday: 9.00am – 12.30pm
Contact us:
For any questions regarding the Native Title Operations and Management Training, please contact:
Emilie – emilie.goegan@nntc.com.au /  03 9326 7822  /  0491 103 261