NTOMT is back! Join us in Melbourne, 23- 27th August 2021. See details below. For more information & to register, contact Tahn Donovan: info@nntc.com.au

What is NTOMT?
Native Title Operations and Management Training (NTOMT) is a FREE, one-of-its-kind workshop teaching Traditional Owners how to grow and leverage their PBCs as a business. NTOMT is organised by the National Native Title Council (NNTC), together with our partners at RMIT, AIATSIS and Melbourne Business School. The training is delivered by leading business, native title and marketing experts.
NTOMT is held over several days, at various locations around the country. We cover the cost of the training and provide catering during workshop hours – participants just need to fund their own travel and accommodation.
We also offer free, customised online training sessions for our members*. Members can pick up to TWO sessions from the menu training options below, and get in touch with us to book in a time that suits: info@nntc.com.au
*If you're not a member of the NNTC, please note that membership is currently FREE for PBCs. Find out more about becoming a member of the NNTC.
If you'd prefer to watch a short snippet of our NTOMT workshops, there is a free video resource below – a pre-recorded business training module, delivered by Damian Manassa from RMIT.
Download the Melbourne training flyer
Who can attend?
The training is open to all PBC members, directors, CEOs, Traditional Owners and board members interested in learning more about managing and growing your PBC.
We also welcome members, staff and directors of non-PBC Traditional Owner Corporations such as those recognised under the Traditional Owner Settlement Act, along with Representative Body staff.
With our face-to-face workshops on hold, we are offering our members the chance to receive two free online training sessions. See the training sessions below and get in touch with us to book in a time that suits your PBC: info@nntc.com.au
What content is covered?
Leading experts from RMIT university, Melbourne Business School, AIATSIS and NNTC will deliver the workshops.
Using case studies, the workshop covers topics such as:
Communications & Marketing
Business Fundamentals (inc SWOT, Force Field Analysis)
Strategic Conversations and Stakeholder Relationships
Governance Structures
HR and Finance
PBC Regulations & CATSI Act requirements
Fiduciary obligations & Future Acts
The workshop also addresses how to pitch for grants, board personality and balance, leadership, negotiating and diplomacy within your PBC and interactive activities throughout the week.
Completion of the course can lead to formal TAFE accreditation and open pathways to further TAFE and Higher Education programs.
NTOMT Online training options for members only: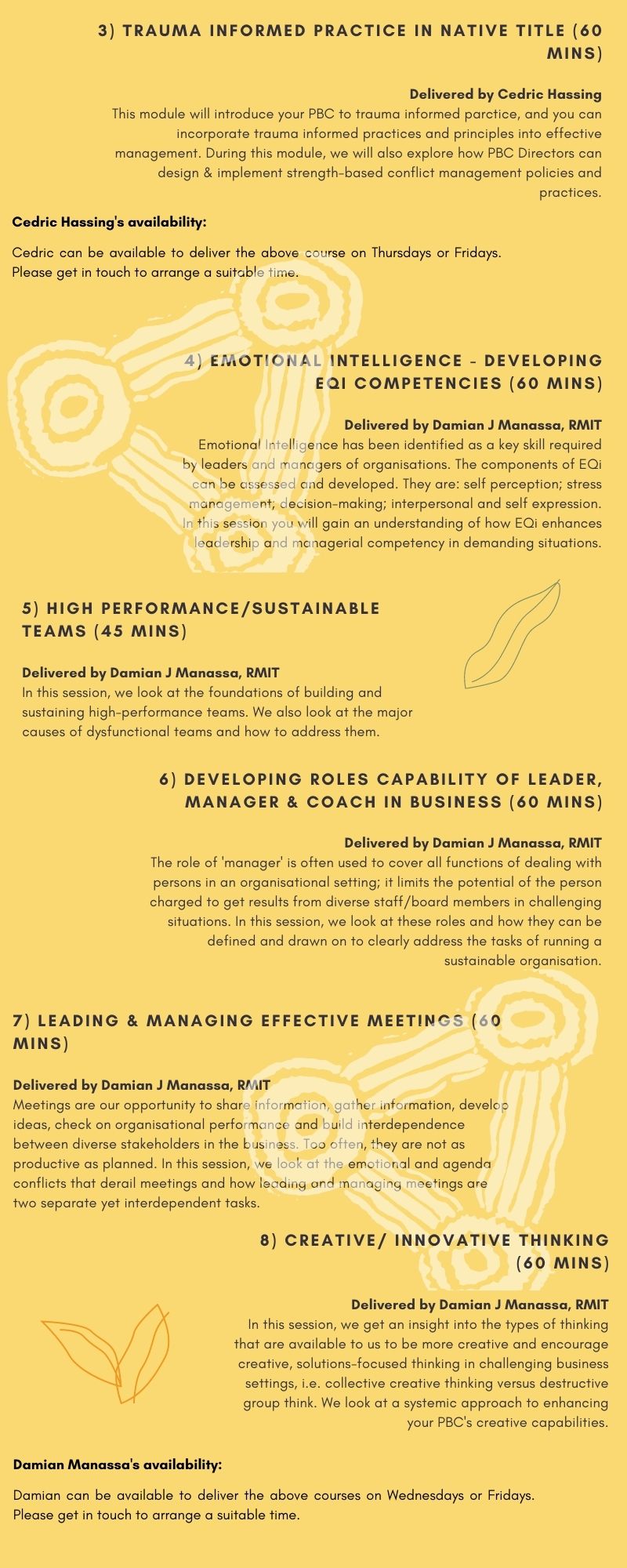 NTOMT – Online Learning Module:
The video below is a condensed version of the 'Business Planning for PBCs' module, delivered by Damian Manassa from RMIT. It is a free resource, aimed at helping PBCs understand the fundamentals of business planning – how to develop financial, marketing and operational plans, along with understanding risks, SWOT and competitor analysis.
Hear from past NTOMT participants:

Contact us:

For any questions regarding the Native Title Operations and Management Training, please contact:
info@nntc.com.au